Hello everyone,
Just a reminder that you can buy your copy of "Beautiful Escape - The Songs Of The Posies Revisited" from the great folks at Burning Sky Records now.
Just click the link below and buy your copy today!
My version of "Flood of Sunshine" is featured on this 3CD, 45 song release.
It would be shame for you to miss out!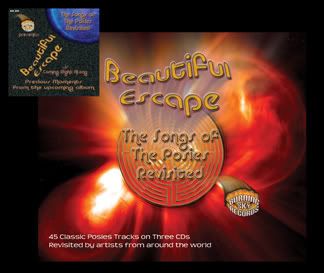 Jon Auer and Ken Stringfellow weigh in on "Beautiful Escape"!Founding Posies member JON AUER has this to say about Beautiful Escape: The Songs of The Posies Revisited:
"I'll have to own up to being suspect when I first heard the concept of forty-five different artists recording new versions of Posies songs. I guess at my core I feared polite, cursory renditions of our relatively 'best known', the proverbial 'skating on the surface' as they say in the vernacular or at the very least folks just 'phoning it in'. Still, as skeptical as I might like to portray myself, and after lending my ears to the procession, I couldn't deny the ultimate conclusion I arrived at: a lot of Beautiful Escape… truly manages to surprise me and I'm really touched that it does. At its best, if you will, I'd liken it to diving headfirst into a sonic mirror from a slightly alternate universe, a place where clusters of tone, choices of instrument, and phrasings of word are reinvented enough to render me able to enjoy something I originally created as if never considered possible in the first place. Wow. In a similar sense, perhaps it's like a stranger finding one of your old photo albums and restaging your favorite pictures in ways and with colors you might never have visualized. Colors that look and feel somewhat familiar, but upon closer inspection smell like a fresh coat of paint on a house you barely remember building. Double wow. Who would've 'thunk' it possible? Not me, I assure you. I suppose until now, that is."
Founding Posies member KEN STRINGFELLOW adds:
"Though I don't think we're as important as the Velvets or Big Star, they say that everyone who heard those bands formed a band soon after--and thus, despite not achieving the high water mark in terms of sales, they profoundly influenced the course of popular music. Are the Posies the next band to join that list? Well, drop the word 'profoundly' and we're getting somewhere. So, in a sense, this collection is a nice cross section of the breadth and depth and global diversity of the people in whom we've struck a chord of inspiration. And it's true for all of us who make music, once you put something out there, you will be surprised how far it travels, and whose day it might make better. An inspiring thought, and I'm honored to contribute anytime to the inspiration to create."