Wow, three months without a blog. Whole lotta stuff to talk about. So here's the updates.
My drummer, Sonya Forbes, had to step down after the "Wednesday Nights In Memphis" CD release. The gig was pretty bittersweet, as it was also the one year anniversary of this band line-up being together, to the day. She is pregnant and did shows for as long as she could until it got too hard. So a warm round of applause and congratulations to the best drummer I've ever worked with and one of my favorite people in the world. She's gonna be one ROCKIN' Mom! Congratulations Jeff & Sonya!
After scrambling to find a fill-in drummer for shows, I'd like to thank Tracy Ruble for stepping up to the plate. He's an excellent artist in his own right with his band The Fast Mothers(along with his twin brother Chris). To do a little name dropping, his dad is the late Tommy Ruble. Tommy was a member of the West Texas Music Hall Of Fame group, The Cavaliers, who were best known for their hit song, "Last Kiss," re-recorded in the late nineties by Pearl Jam. Tommy received The Memphis Song Of the Year Recording Artist award in 1980 for his performance on "Swinging Down In Memphis Town", The Memphis Press Billy Award for Top Pop Male Artist in 1981 and in 1991 he was selected to be the lead vocalist on "One Last Bridge" the official song of Memphis.
On the subject of other musical legends(and should-have been legends), I met Jody Stevens, the drummer from Big Star at a lecture given by Ardent Records. I was horribly star-struck, stammering and yammering like an idiot and I'm sure he thought I was insane. (Listen to "Uptight" again, boys and girls...ya write what ya know) At least I had the presence of mind to give him a demo. Big Star is one of my all-time favorite bands and it was an honor just to shake his hand. I just wish I had a picture of it.
For the past month, I've been appearing every Wednesday night at MO's Edge at a songwriter night hosted by Tommy Hoehn. Once again, I was totally star-struck when he introduced himself. I had been hanging out on the porch listening to them jam for 2 hours and had no idea. Some of you regular folks may not know who he is, but to this Power-pop guy, it's a big thing. Go here and get educated.
http://www.allmusic.com/cg/amg.dll?p=amg&sql=11:a9fyxqu5ldje
http://everything2.com/index.pl?node_id=993249
http://www.lostinthegrooves.com/node/2474
He invited me to be a part of the regular Wednesday show and actually said he liked my stuff, so I'm pretty overwhelmed. It means a lot coming from someone I respect so much.
So come on out to
MO's Edge
(3521 Walker Ave) every Wednesday around 8PM and check it out. Heck, you might even catch me smiling once or twice. (Great, there goes my rep...)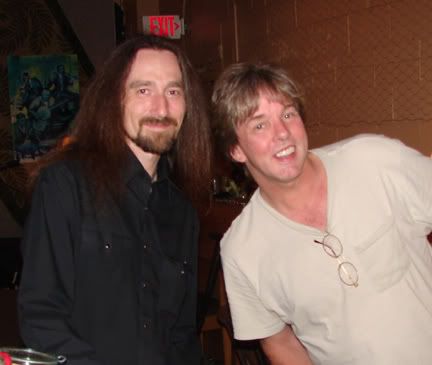 (Mike Dees, Tommy Hoehn)
I also picked up another regular gig at the Songwriter's Supper Club at the
Southern Crow Grill
in Cordova, TN. Every Thursday night at 8 PM some great singer-songwriters get together Bluebird cafe style and swap songs and stories. Come out if you get the chance. The food is really good!
The website is finally up at
www.mikedeesmusic.com
and
www.door23.com
. There are a few MP3s for sale there as well if you're so inclined. Expect more merch to pop up in the future. I also took the plunge and made a page on
Virb
.
I'm in preparations to go into the studio and do some recording for the album pretty soon. The
Jellyfish tribute
should be out very soon as well. I was asked to contribute a track to a tribute to the Posies (another favorite band) by
Burning Sky Records
, so that will be recorded very soon as well. They requested that I take a stab at "Flood of Sunshine", and 8 minute psychedelic guitar tour-de-force, so it should be interesting to say the least.
Needless to say, it's been a weird, wild and wonderful whirlwind for the last few months. Thanks for all the support from everybody, I apreciate everything you do. From posting banners and coming to shows to even taking the time to listen, thank you.
Mike Dees